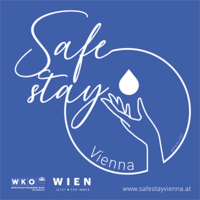 We received the Safe Stay Seal
from the Chamber of Commerce in cooperation
with the Vienna Tourism Board.
Dear guests,
here you will find the Corona rules valid since 01.03.2023 at a glance:
FFP2-mask requirement
Only in the health sector (hospitals, nursing homes)
Those who test positive are not allowed to enter the facilities.
Important information when exploring the city:
On public transport including bus or subway stops
as well as in pharmacies, the FFP2 mask requirement has been lifted!
Gastronomy
No restrictions. Exception: Those who test positive must wear an FFP2 mask at all times.
Distributive trades and body-related services
No restrictions. Exception: Those who test positive must wear an FFP2 mask at all times.
A reintroduction of the FFP2 mask requirement
in other settings is possible with increasing case numbers.
You will also find the current measures applicable in Austria
on the homepage of the Ministry of Social Affairs and also information about entering Austria.
Our team is always at your disposal for further questions.
We look forward to you!
Sincerely,
Your family Kremslehner & staff
Hygiene- und Sicherheitsmaßnahmen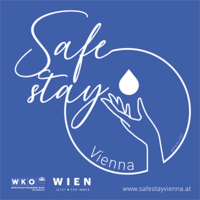 Ab sofort sind wir mit dem
Safe Stay Siegel der Wirtschaftskammer Wien
in Kooperation mit dem Wien Tourismus ausgezeichnet.
Liebe Gäste,
hier finden Sie die seit 01.03.2023 geltenden Corona-Regeln auf einen Blick:
FFP2-Maskenpflicht
Nur noch im Gesundheitsbereich (Spitäler, Pflegeheime)
Positiv Getestete dürfen die Einrichtungen nicht betreten.
Wichtige Information beim Erkunden der Stadt:
In öffentlichen Verkehrsmitteln samt Haltestellen
sowie in Apotheken wurde die FFP2-Maskenpflicht aufgehoben!
Gastronomie
Keine Einschränkungen. Ausnahme: Positivgetestete müssen durchgängig eine FFP2-Maske tragen.
Handel und körpernahe Dienstleistungen
FFP2-Maskenpflicht nur noch im Gesundheitsbereich. Ausnahme: Positiv Getestete müssen überall eine FFP2-Maske tragen.
Eine Wiedereinführung der FFP2-Maskenpflicht
in anderen Settings ist bei steigenden Fallzahlen möglich.
Desweiteren finden Sie die aktuellen in Österreich geltenden Maßnahmen
auf der Homepage des Sozialministeriums und
auch Informationen über die Einreise nach Österreich.
Unser Team steht Ihnen für weitere Fragen jederzeit zur Verfügung.
Wir freuen uns auf Sie!
Herzlichst,
Ihre Familie Kremslehner & Mitarbeiter